Kreatywny spacer i warsztaty artystyczne / Art walk and printing workshop
Marta Adamowicz poprowadzi pierwszy spacer artystyczny / Marta Adamowicz will lead her first art walk.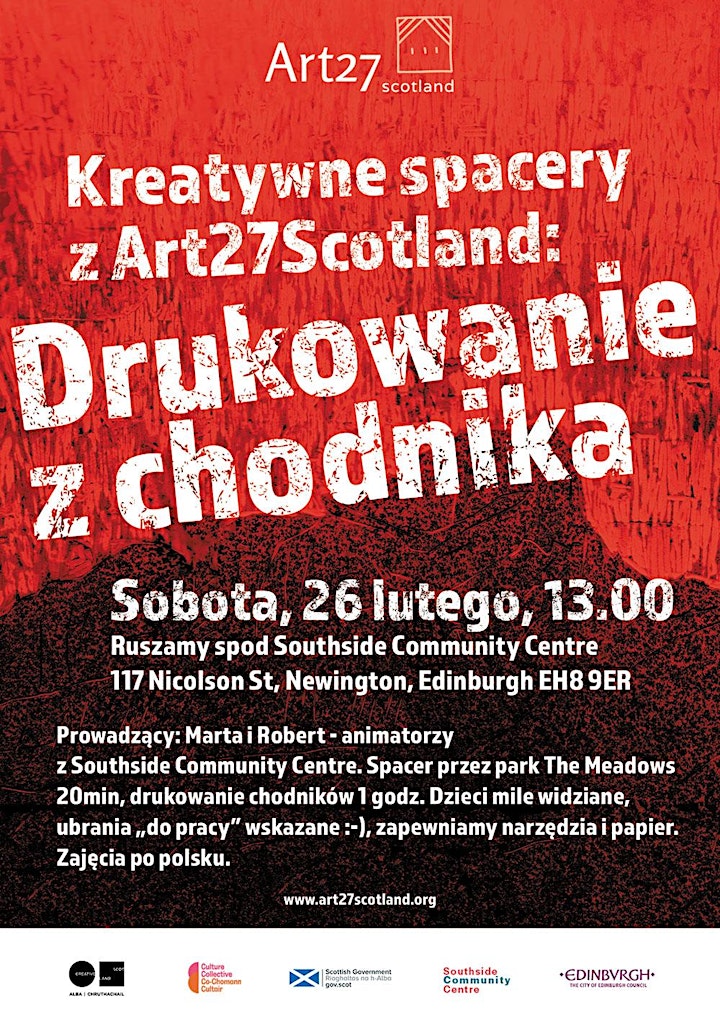 Zapraszamy na kreatywny spacer i warsztaty artystyczne
W ramach rezydencji artystycznej w Art27scotland Marta Adamowicz poprowadzi pierwszy spacer artystyczny w sobotę 26 lutego od 13:00.
Ruszamy spod Southside Community Centre 117 Nicolson Street, Newington, Edinburgh EH8 9ER. Spacer trwający około 20 minut poprowadzi przez park The Meadows do Bruntsfield Links, gdzie mieści się ścieżka imienia Generała Maczka. Będzie to dobra okazja by połączyć spacer śladami polskiej historii w mieście z kreatywną zabawą (czas trwania: 1 godzina). Na miejscu poszukamy ciekawych faktur i powierzchni, które będzie można odbić na papierze i użyć do dalszej pracy twórczej. Zapraszamy wszystkich, dzieci mile widziane. Będziemy używać farb, więc 'ochronne' ubrania się przydadzą. Zapewniamy narzędzia i papier.
Art27Scotland to organizacja działająca w południowej dzielnicy Edynburga od lipca 2021, która do tej pory do działań z lokalną społecznością zaangażowała już 5 artystów. Teraz do tego ekscytującego projektu dołączyli i polscy twórcy: Marta Adamowicz i Robert Motyka. Głównym celem rezydencji jest wzmocnienie międzyludzkich więzi i poczucia wspólnoty poprzez spotkania i warsztaty. Projekt kładzie szczególny nacisk na interakcje, kontakty sąsiedzkie i ich odbudowę.
Marta Adamowicz to polska artystka i ilustratorka, która w swej sztuce porusza problemy społeczne. Główne założenia jej współpracy z Southside to eksploracja imigranckiej tożsamości w kontekście politycznym. Jej projekt "Polish Voices" ma na celu stworzenie miejsca na głosy, które zazwyczaj zostają pominięte i nie wybrzmiewają wyraźnie w naszej rzeczywistości.
Marta używa linorytu, a także dźwięku i instalacji audio jako swego źródła wyrazu. Podczas rezydencji w Southside proponuje serię artystycznych spacerów połączonych z warsztatami druku.
Robert Motyka to twórca video pracujący z wielkoformatowymi projekcjami, wyświetlanymi na budynkach, we wnętrzach i w naturze. Pracuje również jako wykładowca video projekcji i i jest aktywnym działaczem na rzecz praw polskiej społeczności LGBTQ+ oraz praw obywateli EU.
Artystę interesują ograniczenia języka w opisywaniu rzeczywistości i sposoby na zmierzenie się z zakorzenionymi w nim stereotypami. Podczas rezydencji w Southside planuje serię spotkań, warsztatów kolażu i pokazów projekcji video,
Zwieńczeniem rezydencji będzie wspólna wystawa artystów i zaangażowanych członków społeczności w lipcu 2022.
(English translation):
Join us for the art walk and printmaking workshop!
As part of the art residency with Art27scotland, Marta Adamowicz will lead her first art walk on Saturday, 26 February 2022, at 1 pm.
We will meet at Southside Community Centre 117 Nicolson Street, Newington, Edinburgh EH8 9ER. The 20-minute walk across The Meadows will take us to Bruntsfield Links – to General Maczek's path located there. It will be an excellent occasion to combine Polish history in the city with a creative and fun activity (1-hour duration). We will look for interesting textures and surfaces to trace and print. The artworks will be later used in further creative actions during the project. We invite everyone; children are welcome! We will be using paints, so 'protective' clothing is advised. We provide all tools and paper.
Art27scotland is an art organisation active in Edinburgh Southside since July 2021; with five Artists in Residence engaged so far, the creative work within the community has been going on. Now the Polish artists: Marta Adamowicz and Robert Motyka have joined this exciting project. The main goal of the residencies is to connect and engage the diverse communities living in the area and explore how art can influence the quality of life, sense of belonging, and strengthen the bonds between us and the place that we inhabit.
Marta Adamowicz is a Polish visual and sound artist and illustrator. In her practice, she deals mainly with social issues. During her residency at Southside, she plans to explore the existence within the immigrant reality as a form of political statement. Her project 'Polish Voices' aims to create space for voices not usually heard in the mainstream.
Marta will use art walks, printmaking and sound installation as her tools for artistic expression.
Robert Motyka is a video maker, projection and mapping artist. He also works as a video projection lecturer and is an EU and LGBTQ+ activist.
His project for the Southside Collective is titled: RECONNECT. Robert plans to create inclusive, informal meet-ups and workshops exploring the use of language and its functions. The artist is interested in the limits of describing our reality and how we can challenge stereotypes embedded in language. He will use the collage techniques and video projections to explore these.
The project will be finalised in July 2022, when the two artists will join their forces to present the effects of the community work in the exhibition and video projection showcase.